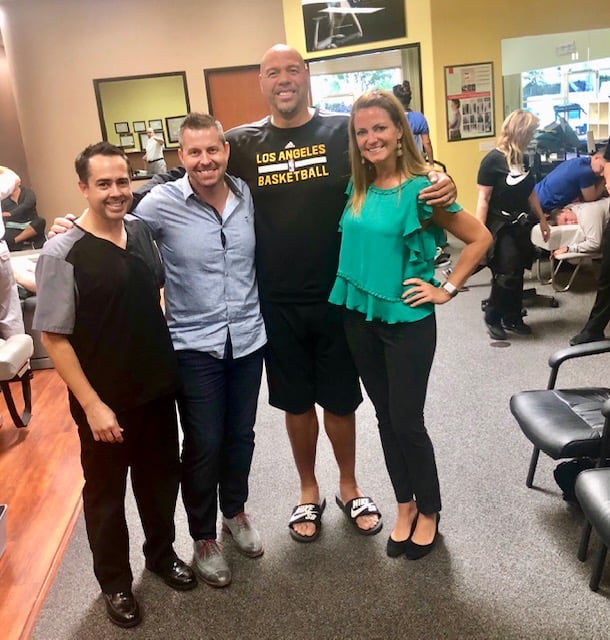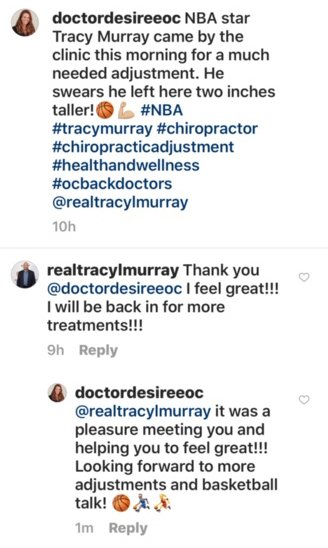 - NBA Star Tracy Murray
---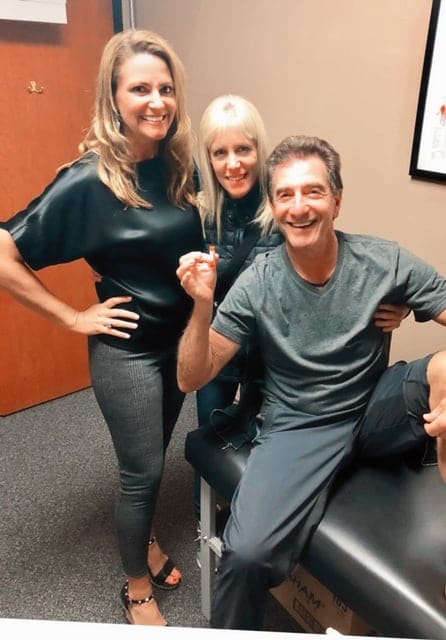 - Motivational Speaker T. Harv Eker
---
"When I first came to see Dr. Edlund D.C., I was suffering with a high level of pain in my neck and shoulders. I was struggling most with pain in my right arm from sports injuries and was re-aggravating it regularly. The exceptional treatment that I have received has enabled me to eliminate all of the pain in my right arm and has drastically reduced the pain in my neck and shoulders. I am most impressed with the variety of efforts that have been made to aid me in the recovery process. In addition, the environment is very pleasant, as is the entire staff. I would highly encourage others to spend some time with Dr. Desirée to improve your quality of life!"
- Brendan P. Donohue
---
"I first became a patient at Dr. Edlund D.C.'s office following an accident at work on July 5th, 2000. I called a coworker who was seeing a chiropractor (who he spoke highly of) and I asked for the phone number. Before I started treatment I was in pain 24 hours a day, 7 days a week. I could barely walk, stand, or sit – even sleeping was painful. At times the spasms were so painful that all I could do is curl into a fetal position on the floor. The chiropractic treatments and stretching program have eliminated the pain and improved my flexibility so that I can now go about a normal life. All this has allowed me to return to work and play. In can enjoy walks, hiking, bicycle rides, tennis, the beach, and can even sit and watch TV or a movie without pain and discomfort. The service I have received at Dr. Edlund D.C.'s office has been extremely enjoyable and improved my quality of life."
- Bob Shephard
---
---
"This past year I started a new job. After 6 weeks of intense computer entry accompanied by filing, I developed "needles" in my first finger, middle finger and thumb – and when I turned my head to the left the symptoms got worse. An MRI revealed that I had two slight disc bulges. After receiving three cortisone shots and two months of physical therapy my symptoms worsened. I went to the office of Dr. Desirée's clinic and received real team care in helping me overcome my pain. After six weeks I was getting back to feeling 80% better. The combination of adjustments, ultra sound, massage and electric stimulation put me on the road to healing. I strongly recommend this facility to anyone grappling with problems of this nature. Thank you Dr. Desirée and staff!"
- Janice Mastrangelo
---
---
"I saw a dramatic improvement in my x-rays from when I started treatment 6 months ago. My spine looked really good and during my maintenance phase of my treatment it will be perfect. My lower back feels much better and I'm confident that I will not have pain while playing golf or running. Thanks to all of Dr. Edlund D.C.'s staff."
- Bryan Somen
---
"Business woman finds relief from allergies, neck & back pain, her energy levels have improved, and now she can sit at her computer all day without pain!!……..All this, from Dr. Edlund D.C.'s Office!!
I first came to Dr. Edlund D.C.'s on October 25th 2002. I was suffering from neck and lower back pain. When I came in for my first visit, I discovered that I had a reversed curve in my neck which was the reason for my neck pain. Also, when I would stand or sit for long periods of time, my lower back would ache. After having gone to Dr. Edlund D.C. on a regular basis for the past year, not only has my neck curvature become more normal, but I don't notice any pain when I stand or sit for long periods of time!In addition, I noticed that my allergies have reduced since I've had chiropractic treatment. Also, my energy level has improved, as well as my ability to work at my computer desk for longer periods of time. I also haven't gotten sick since receiving treatment since my neck curvature has improved. This has also resulted in fewer pinched nerves. I have Dr. Edund's staff to thank. Thank-you!!"
- Cynthia Nei
---
---
"Dear Dr. Edlund D.C.,
I just want to say that I thank God the day that I found out about your chiropractic office and the cold laser!
When I first came to see you in December 2005, I suffered from a peripheral neuropathy, which caused weakness in both of my legs. This was verified by an abnormal nerve conduction study, and abnormal EMG.
When I last saw my neurologist on January 20, 2006, he said "I do not know what you have been doing, but keep it up!" My nerve conduction test was NORMAL .
I attribute this improvement to the brilliant work of the doctors at the office of Dr. Desirée and the cold laser therapy.
Apparently, the cold laser increases ATP (energy) production into every cell in your body (including the nerve cells!), and I believe this is a major factor in my improved neurological function!
I have found your entire staff to be very friendly, warm, caring, and professional, and if you want to get to the ROOT CAUSE of your health challenges, I would highly recommend Dr. Desirée!"
- Mark Alexander
---
---
"Dr. Edlund D.C. and her staff had come to my office in early October and had given me and my co-workers stress relief massages. Shortly after, I had arranged for a consultation and evaluation with Dr. Edlund D.C.
After my consultation with Dr. Edlund D.C., I was surprised that my neck and spine were in the shape they were in! But then I realized that after 2 major and 2 minor auto accidents, and many years of sports, a toll had been taken on my neck and spine.
With her encouragement and commitment, I started the corrective treatments and I must say, the end results have been great! I no longer have the pain that would come between my shoulders and around my neck. I also have more flexibility and an added bonus is that I sleep much better!!
I want to thank Dr. Edlund D.C. and her wonderful staff for such a wonderful commitment to their patient's health and welfare. They really do work above and beyond the call of duty. I can't thank them enough for all they have done for me!!
Thank-you!"
- Micki Roche
---
---
"Thank You Dr. Edlund D.C.!!!!!
Karli and Andrea first became patients in April of 2002. Karli and Andrea were both suffering from chronic ear infections. Even though they each had 6-8 ear infections in a 6 month span, they were not candidates for tubes because their infections did manage to clear up with antibiotics. After reading and educating ourselves about the overuse of antibiotics, I decided we needed to try other alternatives to help them.
Since I was a chiropractic patient and had great success, I decided chiropractic would be a good start. Dr. Edlund D.C. examined both girls and found their necks to be out of alignment. We started weekly adjustments and both girls continued to become healthier and stronger. In the last year both girls have only had 2 ear infections each and their antibiotic use is minimal.
Their quality of life has improved with chiropractic care: they sleep better, play harder, and rarely miss school or special events. For obvious reasons this has improved all of our lives. We are so pleased with the overall health and wellness that your practice has given our children (our family)."
- Nancy Stichter
Monday
By Appointment Only
---
Tuesday
10:30am - 7:00pm
---
Wednesday
10:30am - 7:00pm
---
Thursday
10:30am - 7:00pm
---
Friday
By Appointment Only
---
Saturday
Closed
---
Sunday
Closed